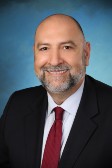 John Raffoul, President, Adventist Health White Memorial

John Raffoul is the president of Adventist Health White Memorial (AHWM), a 353-bed not-for-profit, faith-based, teaching hospital that provides a full range of inpatient, outpatient, emergency, and diagnostic services to the communities in and near downtown Los Angeles.
Raffoul began his career at White Memorial in 1984 as an accountant. In 1987, he left to serve as the controller at Casa Colina Hospital, Inc. in Pomona, and then vice president of finance & chief financial officer at Terrace Plaza Medical Center in Baldwin Park. He returned to AHWM in 1992, where he worked his way up through leadership positions – from chief finance officer to chief operating officer and executive vice president. John assumed the role of AHWM president in March 2015, while Adventist Health was starting to come together as a system, serving more than 80 communities on the West Coast and Hawaii.
With Raffoul's longstanding, steadfast tenure at White Memorial, the medical center has been able to take its performance to the next level in terms of clinical quality, patient experience, associate and physician engagement and operations. This culminated in the hospital being the first hospital in Los Angeles to win the national Malcom Baldridge award for performance excellence in 2019.
Raffoul holds a doctorate in public administration from the University of La Verne, a master's degree in finance from the California State University, San Bernardino, and a bachelor's degree in accounting from Loma Linda University.