25th Anniversary Report: Covid-19 Response
The COVID-19 pandemic has disproportionately affected the most marginalized and under-resourced communities in Los Angeles County, the very communities that L.A. Care Health Plan serves.
The impact is widespread – from more cases and deaths, to job losses leading to housing and food insecurity. The providers who serve these communities have also suffered as visits decreased for fear of exposure. L.A. Care quickly moved to support its members and providers.
In addition to the personalized outreach, education and access to care we offer our members, here are several of the funding and programmatic initiatives implemented to date.
Provider support
Commits nearly $120 million to frontline health care providers
$85 million in accelerated claims payments to L.A. Care network hospitals
More than $21 million in advance Pay for Performance payments to individual providers and Federally Qualified Health Centers serving L.A. Care Medi-Cal members
Grantee support
Approved more than $7 million in accelerated payments to current grantee clinics and community-based organizations. More than $5 million has been released so far on 93 grants, of which more than $3 million will be used for COVID-19 response and recovery
Food security
Drive-through food pantry events serving more than 29,000 households
A $550,000 grant to Project Angel Food to provide medically tailored meals to 151 L.A. Care members with chronic conditions such as HIV/AIDS, kidney disease, uncontrolled diabetes, pulmonary disease, or cancer
More than $479,000 for a Meals to You pilot. This is a meal delivery program for up to 600 homebound members, offering two meals per day for 30 days and connecting members to sustainable food resources.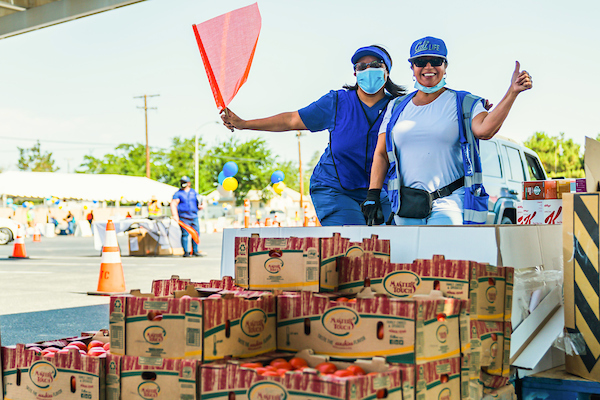 Homelessness
A $475,000 grant to the United Way of Greater Los Angeles to provide essential supplies to unsheltered people experiencing homelessness
A $750,000 grant initiative allowing six legal aid organizations to provide education and legal representation to hundreds of low-income individuals and families facing eviction
Other
Launched free, on-demand exercise and healthy cooking video programming to help members and the community stay healthy while staying safe at home
Donated thousands of bottles of hand sanitizer to community clinics and homeless outreach workers
Held seven blood drives in the wake of thousands of cancellations due to COVID-19