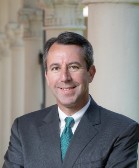 Hector De La Torre is the Executive Director of Gasol Foundation US, a national nonprofit dedicated to children's health and wellness. He is also a member of the California Air Resources Board (CARB) and a trustee at his alma mater Occidental College in Los Angeles.
De La Torre served in the California State Assembly from 2004 to 2010, representing the largely Latino 50th District in Southeast Los Angeles County. He chaired the Budget Subcommittee on Health and Human Services, the Rules Committee and helped create and chaired the Accountability and Administrative Review Committee during his tenure. De La Torre was the Executive Director of the national non-profit Transamerica Center for Health Studies. Prior to his service in the Assembly, he served as Mayor and as a member of the South Gate City Council, Judicial Administrator in the Los Angeles Superior Court, chief of staff to the Deputy Secretary of Labor in the Clinton Administration, and a teacher at Edison Junior High in South Los Angeles.
Among his accomplishments as an elected official were expanding access to doctors in underserved communities, consumer protections against retroactive cancellation of health insurance, and supporting facilities improvements at Children's Hospitals.
De La Torre graduated with a bachelor's degree in Diplomacy and World Affairs from Occidental College and attended the Elliot School of International Affairs at The George Washington University. He lives in South Gate.