Public health experts all over the world are working hard to manage COVID-19, the disease caused by the new coronavirus. While they work to find a successful treatment, we can all do our part to continue slowing the spread of infection.
Your efforts over the past months to follow the Safer at Work and in the Community order (formerly the Safer at Home order) have made a huge difference. The Los Angeles County Public Health Department (LAC DPH) has allowed a phased reopening of businesses and public spaces.
However, COVID-19 remains a serious risk. Please continue to practice social distancing and wear a cloth face covering or mask whenever you are around others, and to wash your hands frequently. Below are links to additional information offered by LAC DPH.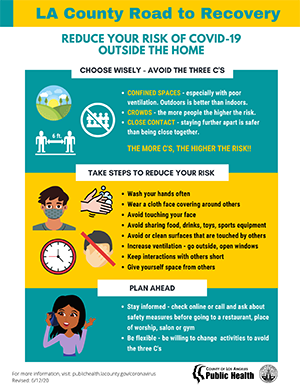 Please continue to take steps to protect yourself and your loved ones. Our video featuring L.A. Care Chief Medical Officer Dr. Richard Seidman shows you how.
Frequently Asked Questions
What is the best way to prevent infection?
The best way to prevent infection is to avoid being exposed to the coronavirus. Practice social distancing, wear a cloth mask in public settings, and follow the Safer at Work and in the Community order.
Also take these daily preventive actions:
Wash your hands often with soap and water for at least 20 seconds. It's best to wash your hands after using the bathroom, before eating, and after blowing your nose, coughing or sneezing.
Use hand sanitizer that has at least a 60% alcohol base if soap and water aren't available.
Avoid close contact with people who are sick.
Avoid touching your eyes, nose and mouth.
Stay home when you are sick.
Cover your cough or sneeze with a tissue, then throw the tissue in the trash.
Avoid handshakes.
I heard about the COVID-19 antibody or serology test to see if I am immune to COVID-19. Where can I get this test?
The antibody test, also called a serology test, is mainly used for research purposes. It's too early in the research studies to say that testing positive for antibodies means you are immune to COVID-19.
Because we don't know if you can become re-infected, people who test positive for antibodies must still protect themselves and others from COVID-19. You will still have to wear a mask and follow the public health officer orders. It also won't tell you if you currently have COVID-19. Scientists hope to know more as research continues.
For more details, view the County's Antibody/Serology FAQs.
Can I get tested for COVID-19 to see if I have an active infection?
The Los Angeles County Department of Public Health only recommends testing for individuals in one of these categories:
Individuals with the following symptoms: Fever, cough, shortness of breath, chills, repeated shaking with chills, muscle pain, headache, sore throat and new loss of taste or smell

Higher risk groups who are not showing symptoms:

Persons over age 65
Those with a chronic medical condition
Essential workers, which includes: Social service employees; Critical government personnel; Health care professionals; Grocery and food service workers; Utility and other public employees


This is in addition to testing of symptomatic and asymptomatic individuals in congregate institutional settings (e.g., child care institutions or residential treatment facilities).
The County does not recommend testing for individuals without symptoms who are not mentioned above. If you do get tested, you'll need to follow the public health orders for positive or negative results.
If you are having symptoms and would like to get tested, please try to contact your primary care doctor first. You can also learn more at the County's testing webpage.