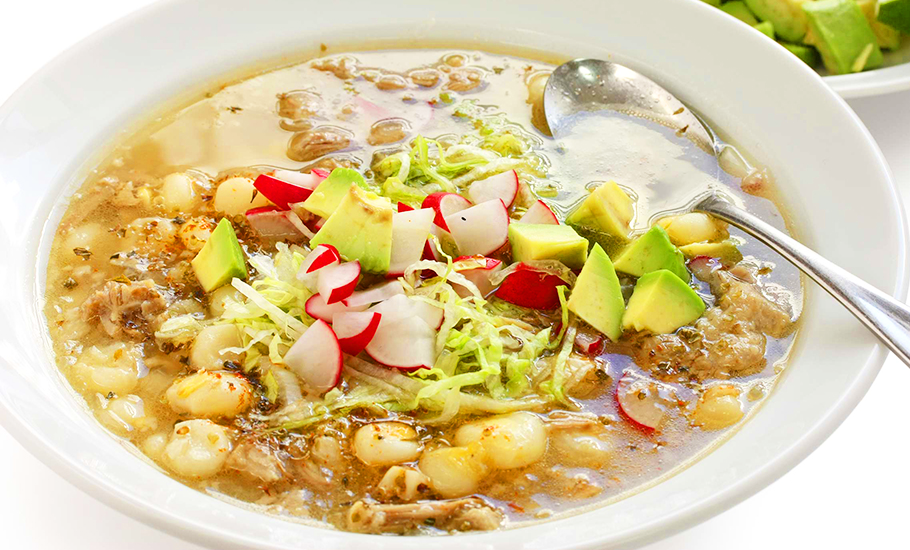 INGREDIENTS:
9 cups water

1 Turkish or 1/2 California bay leaf

1 large white onion, halved lengthwise and thinly sliced

6 garlic cloves, chopped

Poblano peppers seedless and roasted

1 cup spinach

2 1/2 teaspoons salt

3 lb skinless boneless chicken thighs

1/2 cup hulled (green) pumpkin seeds

1 lb tomatillo, husked

2 fresh jalapeno chiles, quartered

¾ cup chopped cilantro

1 tablespoon of fresh epazote

2 tablespoons of grape seed oil

2 (15-oz) cans white hominy, rinsed and drained

Accompaniments: diced onion, radish, cubed avocado and cabbage (sheered)
INSTRUCTIONS:
Cook the chicken
Bring 8 cups of water, bay leaf, half the onion, half the garlic, and 1 tsp of salt to boil.

Cover and then reduce the heat and simmer for 10 minutes.

Add chicken and poach at a bare simmer, uncovered. Skim off any foam and cook for about 20 minutes.

Transfer the chicken to a cutting board to cool.

Pour the remaining broth into a large bowl through a fine mesh to separate any solids. Throw away

the solids, and put the bowl aside.

When the chicken is cool enough to handle, coarsely shred with your fingers.



Make the sauce
Roast pumpkin seeds in a dry, small skillet over low heat, stirring occasionally, until puffed but not browned - around 6 to 7 minutes.

Transfer to a bowl to cool completely.

Simmer the tomatillos, jalapeno and leftover onion in a pan with 1 cup of water. Cover and cook for about 10 minutes.

In a blender, add the tomatillo mix with the poblano pepper, spinach, epazote, cilantro and 1 1/2 teaspoons of salt. Blend until smooth.

Heat the oil in a pot over moderately high heat, and then add the puree.

Cook uncovered, s

tirring frequently until thickened, about 10 minutes.

Stir in shredded chicken, hominy, and 3 cups of the reserved broth.

Simmer and partially cover for about 20 minutes.
​Serve pozole in deep bowls with accompaniments.